SkyGlue helps Indiaplaza identify fraud clicks.
Company Bio
Founded in 1999, Indiaplaza is one of the pioneers in the online shopping space in India. Indiaplaza offers nearly 8 million products online including books, CD-ROMs, cameras, mobile phones, apparel, jewelry, flowers, chocolates, watches, and food items, and has nearly 1.5 million customers worldwide.
Problem
There are some categories (perfumes for instance) where a lot of people add products to cart but never buy (99% people who add to cart did not buy). The apparel category is experiencing the same problem.
Overview
Following is the conversion funnel for visitors who added perfumes to cart. We can see most visitor did not reach the second step (login). The funnel steps can be observed easily from the SkyGlue user drill-down report of a successfully converted customer.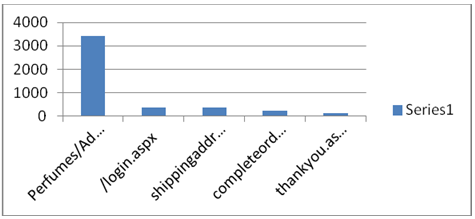 Analysis steps:
We created a segment for visitors who added perfumes to cart but didn't visit the login page in order to further examine them in SkyGlue.
In SkyGlue, we can see many visitors with most pageviews are from United States.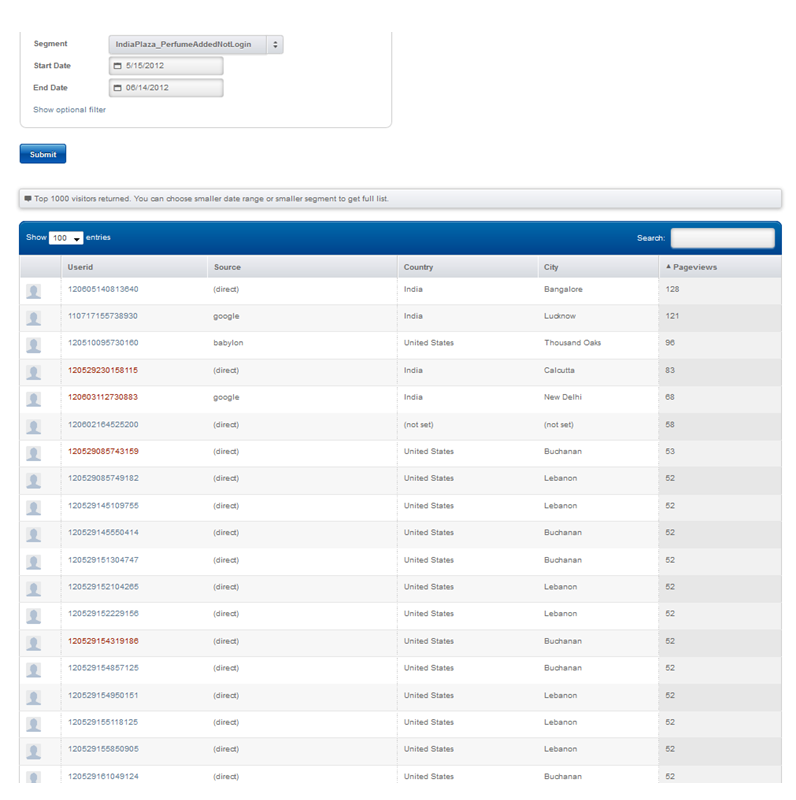 This can be verified in Google Analytics report (from individual to segment):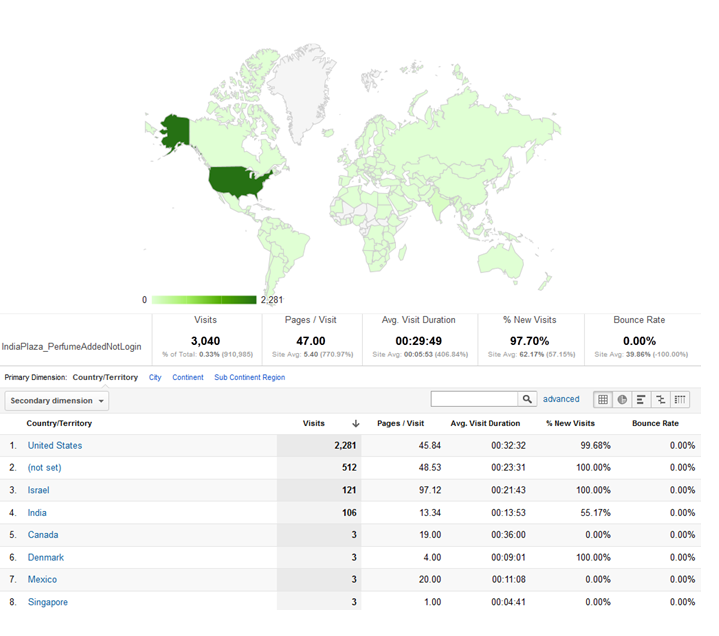 The first reaction was: Maybe they drop out since Iindiaplaza cannot ship perfume to US. In some cases, this may be a good conclusion.
However, upon further examining the SkyGlue user report, we find the visitors from US are concentrated in a couple of cities. This is abnormal. We then drilled down to these visitors to see what they did and how they came. Following is an example report of a visitor from New York.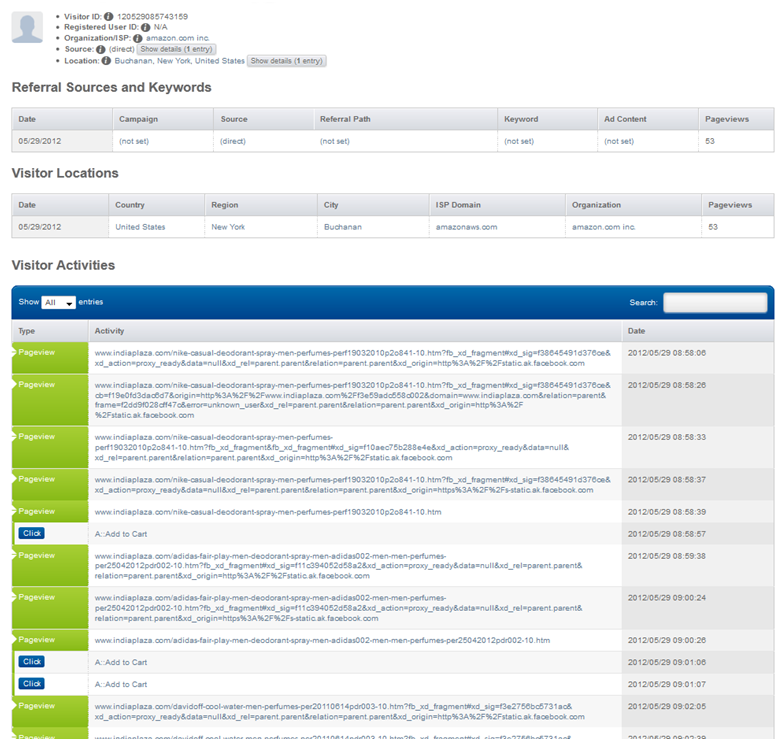 After looking at several visitor reports like this, we find almost all these traffic are directly from amazon.com inc. They do not click other links except "Add to Cart" and they navigate through the website without clicking links. They are most likely to be machine generated visits (bots)
Without SkyGlue, it is impossible to get such level of details of on-page activities. It is also impossible to see all the information of an individual visitor at a glance in Google Analytics so it would be very hard to come to the conclusion that all the traffic are from amazon.com.
We can then easily verify the problem in Google Analytics and see almost all visitors from US are from amazon (from individual to aggregate).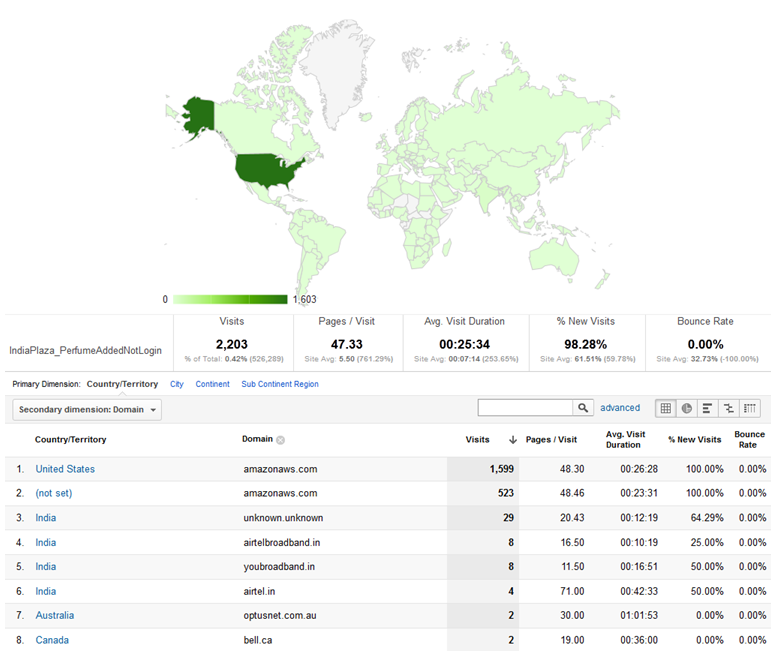 Conclusion:
The drop out is caused by traffic from amazon.com. These visitors are machine generated (bots). Since Amazon is a competitor, this needs to be brought to the attention of the business team. On analytics part, you can filter out traffic from amazon.com using Google Analytics filter.
Following is the traffic trend from amazon.com. We can see the traffic started in May and is growing dramatically recently.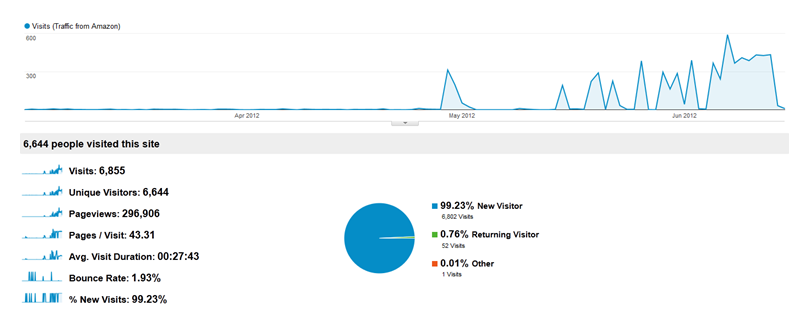 Fixed Conversion Funnel
Following the conversion funnel after filter out amazon traffic. This is much more reasonable. We can use Google analytics and SkyGlue to further improve the conversion funnel.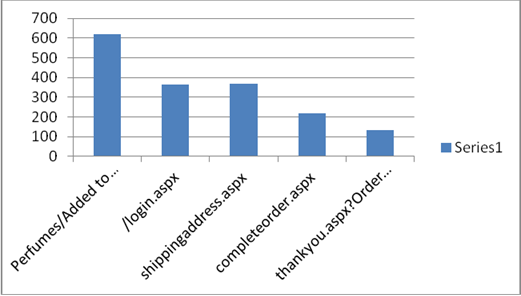 This above process demonstrates the efficiency of using SkyGlue in combination with Google Analytics to learn fast and get insight from our Google Analytics data.