Marketing data analysts love SkyGlue because it takes the headaches out of event tracking. SkyGlue makes event tracking with Google Analytics easier than ever.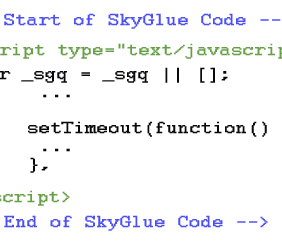 Simply create an account, or login to SkyGlue with your Google ID, and connect your Google analytics account. You will be given a short piece of code to cut and paste directly below your Google Analytics code.
If you can Ctrl-C, Ctrl-V you have all you need to begin amplifying the power of Google Analytics.
SkyGlue automatically identifies events on each page, and begins tracking. No training is needed. Focus your time on the analytics vs. how to the create analytics.
If you want to opt out of site-wide auto event tracking and only selectively track certain events, you can absolutely do so with SkyGlue.
Customization is simple. Your events can be renamed and customized to meet your needs and preferences inside the SkyGlue web portal. No editing HTML or writing scripts. The days of calling IT are over. Take control of all aspects of web analytics and data intelligence.
Benefits of using SkyGlue:
• No Code Writing/Editing — Cut & paste gets you started, customize and fine tune tracking within your SkyGlue UI.
• Instant Data — SkyGlue starts tracking immediately. Your first data available in a few hours. Spend your time marketing and analyzing, not waiting in the IT queue.
• Save Time and Money — Marketing teams spend more time analyzing, less time trying to get data.
SkyGlue uses a unique overlay technology (patent pending) to give you a clear visual reference to every trackable event, right on your website. SkyGlue displays your website with links, images, forms and more highlighted in a color overlay. If you have multiple links going to the same target, you'll no longer wonder which path is most effective.
You'll see your website through the eyes of your visitors, and have greater understanding of their actions and motivations.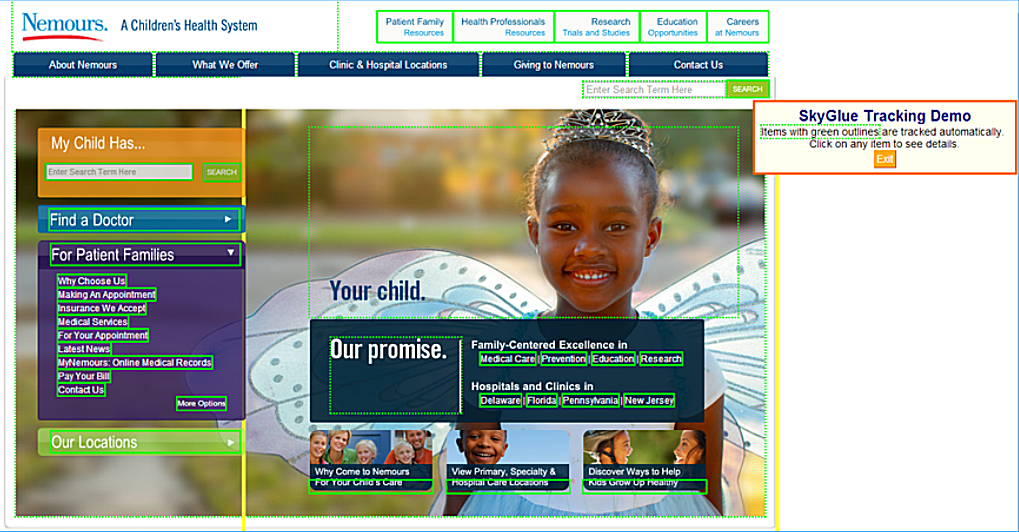 The SkyGlue interface shows automatically tracked html elements in green.
In a single glance, you know exactly what is being tracked. Click any event to find the element ID. No more wading through source code!
Event tracking has never been so intuitive or efficient.
Completely integrated with Google Analytics advanced segments and hundreds of benchmarks, you can select any group of visitors you want to zoom in!
With SkyGlue, you'll be able to track any individual visitor, seeing their complete click path, even over multiple sessions.
Understanding individual visitors helps you understand what motivates them to action. You'll learn which written or visual prompt encourages them to purchase. You'll identify roadblocks or confusing navigation that makes your user experience less than friendly.
Best of all, you can select visitors you want to zoom in using the powerful advanced segment in Google Analytics and conduct focus study on individual visitors as personas in such group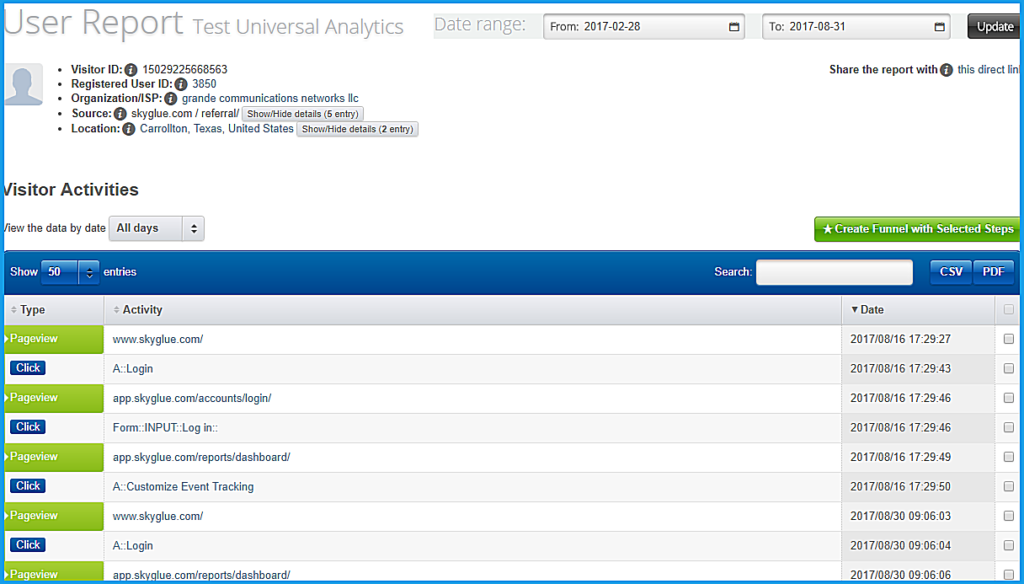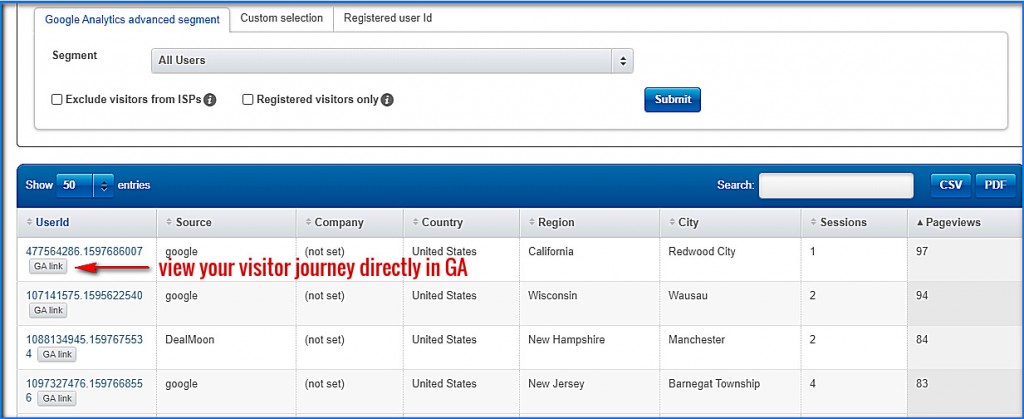 With SkyGlue individual visitor tracking you can:
View your visitor journey directly in your Google Analytics account.
Track anonymous users and registered users across sessions.
Registered users can be tracked on multiple devices, whether at work, home, or mobile.
Track visitors' form input, know exactly what words they type in.
Know which organizations your visitors are from and how engaged they are on your website. Prepare for your cold-calls!
Export user report and visitor journey report in PDF or Excel format.
Export raw GA data to your backend database for statistical analysis and modeling.
Send your website visitor's online journey and campaign/advertising details to offline CRM and conduct close-loop ROI analysis and strategize remarketing campaign based on behavior. This is the proven most effective way to increase campaign ROI and maximize revenue!
Understanding individual visitors is interesting and valuable, but that's just the beginning. SkyGlue Smart Segmentation takes visitor tracking to the next level.
Identify key behaviors and segment your audience based on them! SkyGlue can automatically identify visitors with the same behavior pattern.
With Google Analytics you can segment based on geography or basic demographics, but with SkyGlue you can segment based on what's really important… how visitors act!
Your team can make better decisions with deeper insight. With SkyGlue you'll be able to correct unfavorable behaviors, and influence your audience to answer your call to action. Whether your website focuses on sales, collecting information, or building a registered user base, you'll be able to streamline the actions of your potential customers.
Understand your visitors and influence their behavior, with the power of SkyGlue Smart Segment!
Send your Google Analytics data to Big Query or link your Google Analytics visitor data with your off-line data sources for any intelligence you want!
SkyGlue delivers Data Opportunity right in front of your eyes! Export Google Analytics individual visitor data with time stamps on a daily basis and mine for unlimited opportunities.

With raw GA data at your fingertips, there is nothing you cannot accomplish!
• Integrate GA data with customer data from various CRM systems and data sources; such as Salesforce, user transaction databases or student record databases. Link customer behaviors from online to off-line and optimize your personalized re-marketing for greatest return.
• Identify winning and losing campaigns; combine your website data with advertising and email data so you can analyze and optimize every step of your conversion funnel.
• Grab raw data for any type of statistical modeling you can ever think of. Define your own KPI and produce customized reports for everyone in your organization. Use data to speak and impress!
SkyGlue connects your data for real value and allows you to bring true business intelligence to your Google Analytics data!
SkyGlue exports user, visitor, session, page view and event data for you. Check out the table structures and details on our database export offering.