Reditum capital case study
Overview
UK real-estate lender Reditum Capital utilizes SkyGlue's CRM integration feature to send campaign data to their Salesforce CRM for consolidated reporting. The campaign data includes source (eg. Google, web inquiry form), medium (eg. cpc), campaign name (eg. anniversary) and the SkyGlue visitor ID. Under each lead in their CRM, a SkyGlue visitor journey report is linked for detailed knowledge about the customer's online behavior.
The results are:
1), Accurate and direct measurement on campaign ROI from all channels. The client knows which campaign works well and which does not.
2), Cut reporting time from 3 days to a few hours!
3), Better understanding of customer online behavior.
The client no longer needs to marry data from various sources to produce key reports. SkyGlue enables the client to produce reports containing all key insight from a single source!
Company Bio
Reditum Capital is a renowned specialist lender to real estate developers and alternative asset investors. It provides financing for real estate investments and developments across the UK, Europe and the rest of the world.
Case
Reditum Capital wants to use SkyGlue's CRM integration feature to achieve the following objectives:
1, Automatically collect lead source & campaign information into their Salesforce CRM.
2, Capture the digital path the client clicked through into their Salesforce CRM.
With SkyGlue, Reditum Capital successfully achieved both goals. The client was able to track and capture source, medium, campaign data on their website for each visitor and send such data to their CRM system. SkyGlue's visitor click path link is also available under each lead so the customer's web journey is just a click away.
As a result of the SkyGlue implementation, Reditum Capital was able to see all of the critical insight straight away rather than marrying data up with GA report and pulling in lead reports from other sources. Traditionally, the client needs to pull report from GA, from Salesforce and from different partners, such as agencies who run digital campaigns for them. Now everything is in one place and a lot of reporting time is saved!
"SkyGlue helps with our marketing analysis on what campaign worked well and the 'SkyGlue link' gives us insight from a user's point of view. We can see what happened to each of our lead, what the result was based on what the stage was. We can know if it was rejected, for what reason, or if it didn't go anywhere for what reason. Right next to it, we can see where the lead came from. If a lead is converted, we can see if it came from a contact link or a campaign and what is the source. It helps us to go down one level of details. We are really glad we found SkyGlue. It saves a lot of time with reporting and helps us analyse our campaigns in more detail". —– Emma Weir, Redium Capital
Below are a few lead report screen captures from the client's CRM system. Sensitive data has been blurred for demonstration.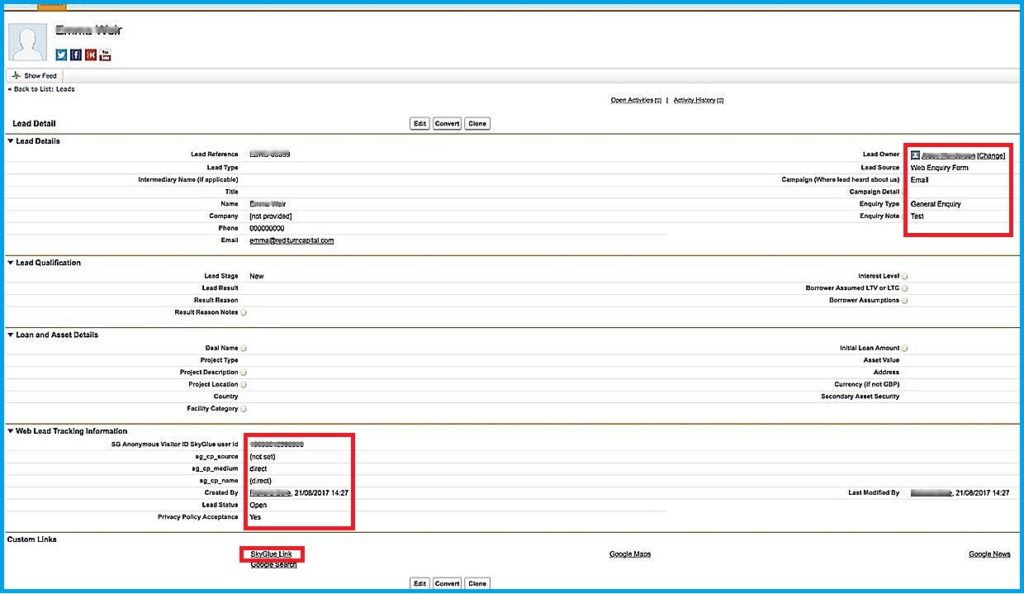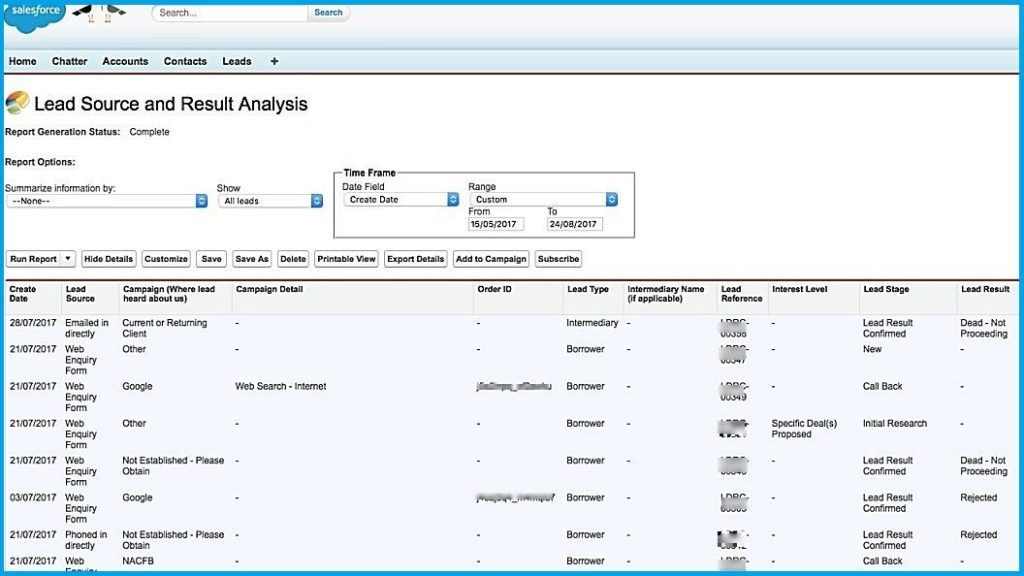 After clicking on the "SkyGlue link" under each lead, you will be able to view the SkyGlue visitor journey report.