SkyGlue funnel report is a very powerful feature helping you to understand conversions and customers. It allows you to create funnels instantly out of nearly any website user action.
The report is super easy to construct. Simply click on the "Create a new funnel" button under "Funnel Report" and add the funnel steps.  SkyGlue also allows you to pick funnel steps directly from your SkyGlue User Report. You can generate funnel reports right away to get the conversion charts and details.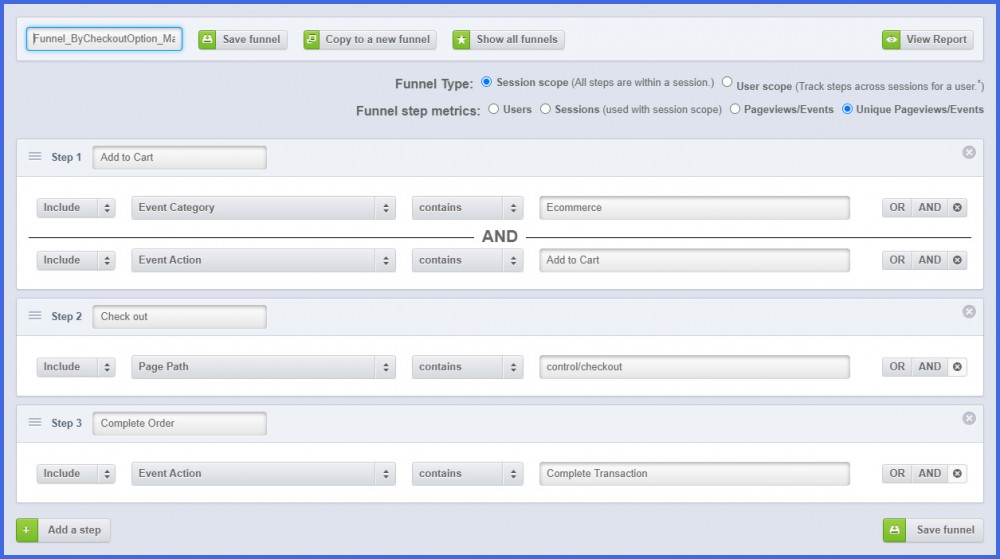 Since SkyGlue is built on top of Google Analytics, it preloads all of GA's drill-down dimensions (Google Adwords, Google E-commerce, Traffic Source, Custom Dimensions, etc.) and allows you to turn one funnel into multiple funnels by switching between dimensions, such as location, campaign, keyword, device, browser, etc. You also have the option to see the report as either an Open Funnel (where a user can enter the funnel process at any step) or a Closed Funnel (where a user must follow every step defined in the funnel).  The funnel side by side comparison features allows you to understand immediately how your recent web changes are performing with benchmarks and why.
What is unique about SkyGlue funnel report is it gives you the option to view all individual visitors under each funnel step and even their detailed click-paths. You simply click on each step to retrieve the SkyGlue user report.  This level of detail under a funnel report is only available with SkyGlue.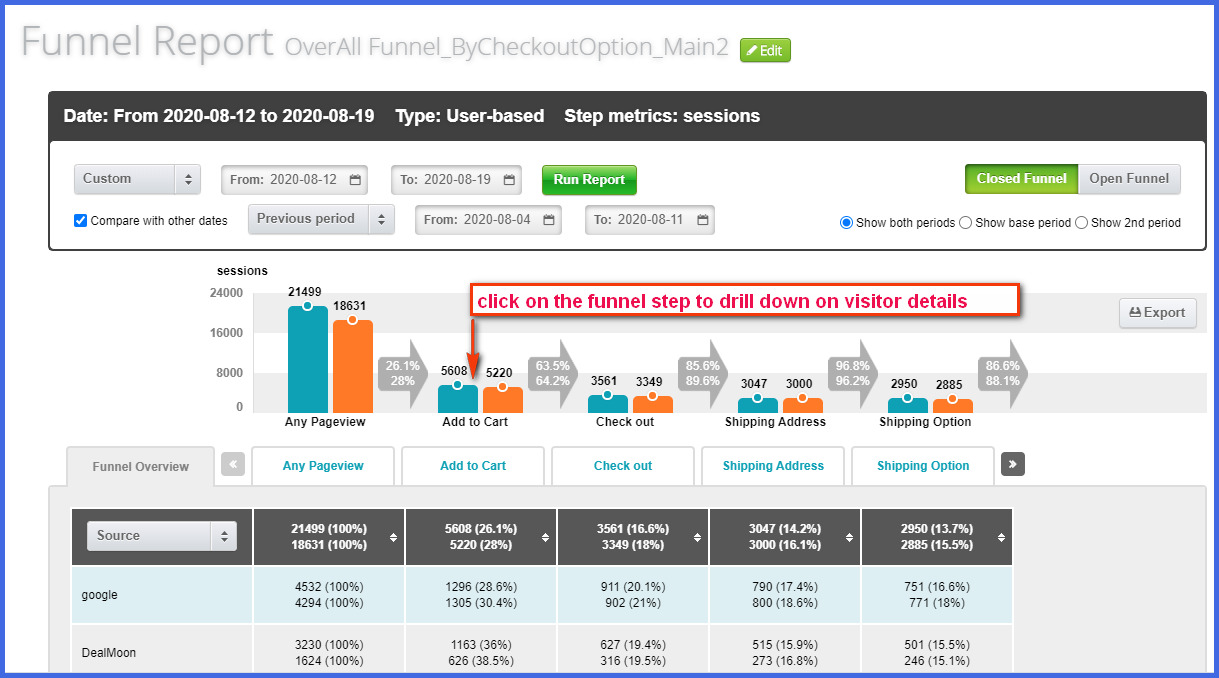 You can use SkyGlue to create funnel report based on page. If you have an e-commerce website, It would be vital to understand how many visitors landed on your product page, accessed the add-to-cart page, went to the login page and eventually arrived at the checkout page.
Sometimes if maybe beneficial to create funnel report solely based on event or a combination of both event and page. On your lead generation form, you may want to to monitor user navigation on the form fields and find out where the biggest drop-off step is and why. When visitors finally reached the credit card checkout page, you many wonder why some of them did not hit the most important "Purchase" button.
Not only that, SkyGlue now allows you to build events based on non page/event dimensions such as source, medium, keywords and event custom dimensions you build.
SkyGlue funnel report allows you full flexibility to choose any funnel steps and understand conversion rate. You can compare funnels side by side from multiple time periods to understand effect of web changes. With the SkyGlue custom funnel report, you can immediately begin to identify problems in your conversion process, create better end user experience and improve conversion performance.
Check out the short SkyGlue funnel video on how to create an instant funnel report.
To find out the differences between the funnel report offered by GA premium and SkyGlue. Please check out the detailed comparision chart.